Monday, 12 May 2014 10:16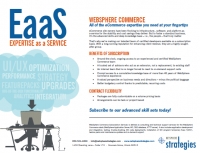 With EaaS, expertise as a service, clients benefit from around-the-clock, ongoing access to a certified WebSphere Commerce team. Subscription packages are fully customizable.
Download the brochure below to learn more. 
Thursday, 03 April 2014 17:39
NetSphere Strategies' core competencies lie in the eCommerce realm. From services to solutions to support, our team helps our clients map out the route to success and build the roads to take them there.
To learn more, download the brochure below.