Alibaba gives exclusive early access to its new site, 11Main.com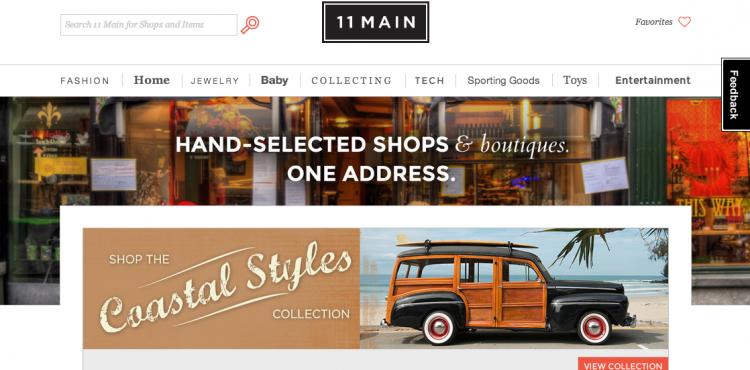 Back in February 2014, headlines about 11Main.com, Alibaba's way of entry into the U.S. online marketplace scene, were popping up all over the web. At that time, however, the soon-to-be-released eCommerce site was only in preview mode. The glimpse inside revealed high-quality photography of boutiques and small indie-style shops, causing sellers and buyers alike to wonder what was in store – literally. But now that several months have passed, the waiting period has come to a close.
Today, those who provided an e-mail address for notification when the site went fully live are getting exclusive early access to shop the site. Although access comes with the caveat that 11 Main is still adding new shops, products and features, the site is replete with fashion goods for men, women and children as well as products that fall under the categories of home, jewelry, baby, collecting, tech, sporting goods, toys and entertainment.
With such a broad range of categories, it seems as though 11 Main could truly rival the vast offerings found on Amazon.com. Upon closer inspection, however, 11 Main doesn't appear to be dipping its toes into food items, automotive and industrial products, or major electronics, like TVs and computers. Instead, it's focusing on selling items from hand-selected specialty shops and boutiques.
This differentiator – an invitation-only marketplace, carrying unique products that only come from hand-selected sellers – causes 11 Main to compete with the likes of Etsy and other curated websites as opposed to competing with Amazon.
"At 11 Main, we're passionate about the shops we invite and helping them grow," said Mike Effle, president and general manager of 11 Main, in a press release dated June 11, 2014. "We're constantly introducing new shop owners who represent the diversity of Main Street and featuring their new, amazing products in a beautifully designed experience."
That experience comes through in the form of quality photography as well as through the art of story-telling. With small-business brands as its bread and butter, 11 Main aims to help shoppers better connect with sellers by learning about what makes those sellers unique.
When 11 Main shoppers click on a featured shop on its home page, for example, they are taken to a products page, as one would expect. At the top of that page, however, website visitors see a pithy tag line for the seller as well as a link to learn more. On seller landing pages, shoppers can get background information on how long the business has been around, what their product passion is and what makes them special.
"It's truly exciting to participate in a marketplace that gives me a place to build my brand and sit alongside other shops who share my passion for products and customer experience," said one of 11 Main's featured shop owners in the press release. "I immediately requested an invitation to open a shop and am looking forward to growing my business at 11 Main."
To be considered as a seller on 11 Main, interested parties should head to the website's home page where there is a link for sellers at the bottom right-hand side of the page.
To streamline selling activities on other third-party marketplaces, like Newegg, Amazon, Sears, Rakuten and eBay, check out NetSphere Strategies' BalanceMaxx plug-in, a SaaS service designed to increase data accuracy and reduce labor costs.
Trackback URL for this blog entry.