Howard Miller – time is what you make of it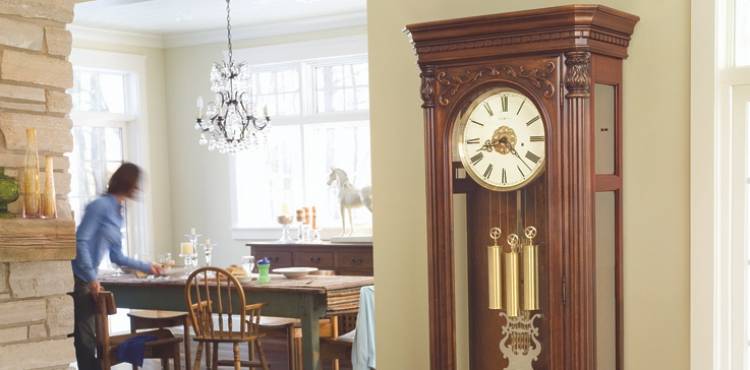 When Howard Miller first started making clocks 87 years ago, his goal – first and foremost – was to make products that highlighted the quality of the materials used and the talent of the craftsmen making them. Today, just as it was in the beginning, his company's focus is directed at the most precious of commodities available: time.
That focus on quality has caused Howard Miller timepieces to become nothing less than heirlooms, proudly passed from generation to generation. In the same tradition of passing on prized possessions to a loved one, Howard Miller's father passed on a timeless skill to his son: the art of clockmaking.
"It's still a family owned business," said Dave Griebel, information systems manager at Howard Miller. "It went from the father to the son and now to the grandson. And the family is still based in Zeeland, Mich., the company's hometown."
In Zeeland, clock production covers the gamut. It includes wall and mantel clocks, desk clocks and alarm clocks and, of course, grandfather clocks. In fact, when the company started making floor clocks in the 1960s, it quickly earned the title of the "World's Largest Grandfather Clock Manufacturer." Later, collector cabinets were added to the mix as were additional lines of home furnishing.
"We are constantly developing new styles of clocks and cabinets, reacting to ever-changing furniture trends," said Griebel. "We see the sales of floor clocks to rise in the coming years, and we see great potential in our Senor Living product line, which supplies specialized furniture to retirement homes."
Tradition based in America
During World War II, American-based companies did their part to support the troops fighting overseas. And the Howard Miller company was no exception. To do its part, the company joined the war effort with the Ford Motor Co. and began producing anti-aircraft covers.
And although Howard Miller learned his trade on the other side of the pond, the company was founded stateside in Michigan and has been there ever since. The commitment to remain a Made in America product, which is more important now than ever before, has carried the company through decades of success.
Because of the uniqueness of each individual piece, the majority of Howard Miller sales happen in brick-and-mortar stores. Griebel explains that buyers want to see them and touch them before making a purchase. They want the clocks to speak to them.
So while the company relies on its dealer chain, it also has a website at www.howardmiller.com available for perusing the collection online. NetSphere Strategies, a boutique eCommerce firm in the Chicagoland area, helped Howard Miller set up the store initially and then gave them support with their online store for making limited product and parts purchases at http:/store.howardmiller.com.
"We had a website for many years, but it was hosted by an outside service," Griebel relays. "We purchased IBM WebSphere Commerce so we could bring support of the sites in-house. Initially we brought up the company's website to increase our online exposure and Internet selling experience. Over time, we were able to convert the remaining B2B and B2C sites to WebSphere Commerce. Today we support 80 percent of the sites and utilize NetSphere Strategies for issues that exceed our skill sets – a seven-year partnership that is still going strong."
As one of the only domestic manufacturers of grandfather clocks, it's comforting to know that the company's long-running dedication to craftsmanship will live on. And just as the timepieces will live on as heirlooms, so will the Howard Miller focus on quality – in their products and online endeavors alike.
Trackback URL for this blog entry.